PRINCIPAL
| | | |
| --- | --- | --- |
| PRINCIPAL NAME | FROM | TO |
| SHRI S.P. PANDEY | 1984 | 1987 |
| SHRI R.L. PATEL | 1987 | 1988 |
| SHRI N.D.AGRAWAL | 1988 | 1989 |
| SHRI B.P. PANDEY | 1989 | 1990 |
| SHRI A.D. BHARAT | 1990 | 1992 |
| SHRI BALRAM SHUKLA | 1992 | 1995 |
| SHRI K.N. VISHWAKARMA | 1995 | 1997 |
| SHRI K.L. SONI | 1997 | 2003 |
| SHRI GOPAL PANDEY | 2003 | 2005 |
| SHRI BALRAM SHUKLA | 2005 | 2008 |
| SHRI SANJAY KUMAR PANDEY | 2008 | 2014 |
| SHRI RAMLAKHAN SHUKLA | 2014 | 2015 |
| SHRI R.K. KUSHWAHA | 2015 | 2019 |
| SHRI RAJEEV SHRIVASTAVA | 2019 | Till Date |
PRINCIPAL MESSAGE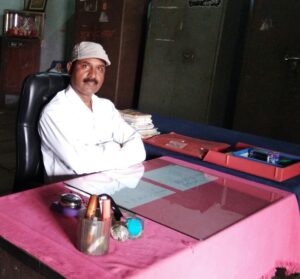 Hitkarini Higher Secondary School, Sahajpur was established in July 1981. The school owes a lot to the former principals, who have put in their special contribution towards the progress of the school.
Currently, for classes 11 and 12, faculty of Arts and Commerce is available, and for the all-round development of the students they are taught academics, cultural and sports activities by experienced teachers. Students have always performed well in the Board examinations, in addition many students have been meritorious by achieving distinction.
Keeping in view the impact of English Education, Hitkarini Sabha started the Pre Primary section with 54 students at Hitkarini Children Academy, Sahajpur in July 2019. Facilities like – Bus service, Big playground, and other facilities provide a major support to the in creating a good learning environment for the children. Moreover, students coming from poor or backward sections of the society are being provided English medium education in minimum fees.
The aim of the school is to develop the students in academics as well as in sports, drawing, environment and other fields.
We are hopeful and confident that with your cooperation, in the coming years we will be able to establish the school as the best and most prestigious school in the area.
                SHRI RAJEEV SHRIVASTAVA
                                PRINCIPAL
                           M.Sc , MA , B.ed